Gr. 7 Starting Blocks Morning
On your mark…get set….
Our Gr. 7 Starting Blocks Program, will be held Thursday, August 27th at Richard S. Fowler Junior High School.   Once again, the main goal is to be able to give our Grade 7 students an advantage by giving them tools that will help them get started and stay on the right track. This is their first year of Junior High!
The following is the projected schedule for the day:
10:30am                Arrival and Opening Activity in the gym
(Welcome, faith component, divide them into homeroom groups, students receive their timetables)
For parents dropping off their child, our school council will be hosting a coffee corner in the cafeteria …stay and chat a while….
10:50am                First Rotation of sessions
11:10am                Second Rotation of sessions
11:30am                Third Rotation of sessions
11:50am                Fourth Rotation of sessions
Session 1               Organization (lockers, locks, binders)– students are encouraged to bring in their school supplies to organize them in their locker during this session
Session 2               School expectations,  (boundaries, cafeteria rules, hallway etiquette, dress code, academics, Pyramid of Intervention)
Session 3               Learning to learn (test preparation, homework routine, homework room, teacher websites, study skills)
Session 4               Book central! (Library tour, Library rules and procedures)
12:00pm               Students get picked up.
We are confident that this will be a productive, informative morning for our students.  We believe this will get them off to the right start!  Should you have any questions, please feel free to call the office at 780-459-2644.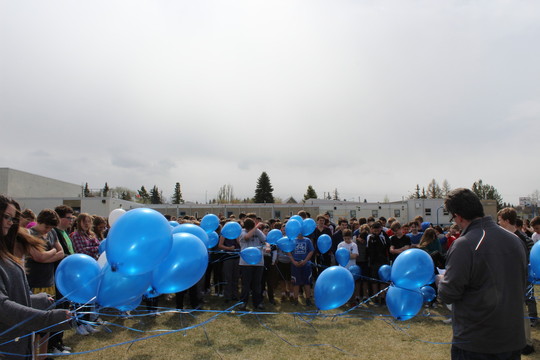 Celebrating 150 years of Catholic Education!
RSF students and staff beginning the month of May with our "Living Rosary" celebration.
Welcome to RS Fowler!
Welcome to R.S. Fowler Catholic Junior High School!  We would like to take this opportunity to share with you the many initiatives that make RS Fowler a school of choice in the city of St. Albert.  At RSF, students receive outstanding academic instruction, may access a wealth of athletic opportunities and use technology as a meaningful and engaging learning tool.  As a learning community, we work with students and parents to ensure that students achieve success.  Programming at RSF is organized to enable students to achieve the best they can academically, socially, physically and spiritually.
RSF offers a variety of option course options that allow students to both discover and develop their gifts and talents. Our option course offerings range from Fine Arts based courses, such as Ceramics, Drama and Band, athletic based pursuits such as Dance, Outdoor Education and Fit for Life, as well as classes designed to meet specific student interest such as Robotics and Enterprise and Innovation (business), to name a few!  We encourage our students to be fully engaged in our student life through participation in Student Council, Chess Club, our annual musical theatre production and intramurals and other clubs! We wish you every success in achieving your goals and look forward to journeying with you during this exciting time of your life!
If you would like a tour of the school, we would be delighted to meet with you!  Please contact:
Heather Chyzowski, Principal
at
(780) 459-2644 or hchyzowski@gsacrd.ab.ca
Facebook:  RS Fowler Catholic Junior High School
Twitter: @rsfalcons